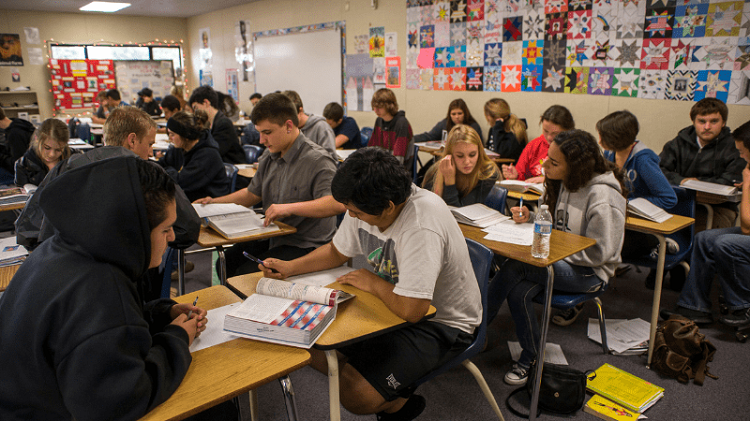 In CBSE board examinations from class 6-class 12, the score of language papers like English, Hindi, Sanskrit plays a very important role. Since that score can help you to boost your overall score in the end examinations. Though many students feel comfortable with Hindi and Sanskrit papers. When it comes to English, many students think that they need preparation to improve their writing and grammar skills. So, this article tells class 8 students how to prepare for their English exam in 3 months
English is a universal language that is accepted by almost all countries in the world. So it is very necessary for the students to learn English from their initial stages. That is why even the CBSE board has structured the syllabus in such a way to improve the skills of the students. The skills that can be improved through this course book are listening, speaking, reading, writing. These skills are popularly called LSRW skills. LSRW skills are considered to be very important skills for competitive exams also. According to the CBSE syllabus, NCERT has two English textbooks in class 8 i.e.
CBSE class 8 English It so happened
English Honeydew: Honeydew is the main textbook for English in class 8. It has 18 chapters including poems that are present at the end of each lesson. As we discussed above, in every chapter of Honeydew, student LSRW skills will be put to test. So, in order to complete your English preparation in a full-fledged way it is necessary to read the textbook thoroughly. Students can follow any textbook of their liking or suggested by their teachers. But it is more recommended to study NCERT books.
Reading the textbook will help you in two sections of your question paper. Firstly, it helps you in the reading section. secondly, it helps you in writing the literature section with great ease and perfection.
English It so happened: It so happened is the supplementary reader for class 8 students. Although it is a supplementary reader it is as important as the main textbook for the board end examinations. It has 10 chapters. Students must read this book in the same way as you read Honeydew. The whole purpose of both textbooks is to give a better foundation in communication skills, writing, grammar skills for the students in the English language.
Question paper pattern of Class 8 English:
The question paper consists of 3 sections
Reading: In this section, comprehensive passages will be given. Students must answer the questions which are asked from the passages given. This section carries 20 marks.
Writing and Grammar: This section tests the student ability of writing and grammar skills. This section carries 30 marks.
Under the writing section, questions related to Notice, story, Formal and informal letters, Diary entry, the essay will be asked.
Under the grammar section, questions related to the order of words and clauses, Direct and indirect speech, active and passive voice, tenses, Parts of speech, Phrases and idioms, vocabulary will be asked.
Literature-In the literature section, questions from the lessons of the textbook will be asked. It carries 30 marks.
Every question from each section must attempt compulsorily. No choice will be given.
How to complete preparation in 3 months?
Now, the syllabus and model of the question paper are clear. It is not a very hard thing to complete the syllabus in 3 months. It just depends on the things like how many hours you can contribute to reading English subject, how wisely you prepare for it and so forth.
The time you can contribute: Since English is not the only subject that you must write in your final board exams, it is very important to make a plan on the question "how much time in a week you can contribute ". The ideal time to contribute to English subjects in a week is 4-5 hours. This time is good enough to complete your syllabus within 3 months perfectly.
How wisely you prepare for it: In the English question paper, from the reading section to the literature section, you can not predict things at all. So, it is inevitable to prepare for the exam very consciously. In 4-5 hours a week, you have to allocate your time to cover all the chapters of the textbook.
Points to remember while you are preparing for the English exam:
When you are reading the textbooks, it is important to keep a close eye on new vocabulary, good expressions, important sections in the chapters. It is always recommended to hold a pencil while you are reading so that you can easily underline the above things as soon as you saw them.
Since the comprehensive passages will come up in the exam, it is suggested to read the different passages that you come across in newspapers, books, etc. Take these comprehensive passages from different fields.
To improve your writing skills, solve the previous years' papers and attempt the mock tests. When you do this, you can observe your writing skills can pick up a lot by the time of your exam.
To improve the grammar skills, it is important to focus on grammar sections available in the main coursebook.
To attempt the literature section well in the exam, summarise the lessons, poems that you read in both Honeydew and It so happened in your own words.
To remember the table of authors and main characters in the lessons, you can use the flashcard method. The flashcard method is writing the important things to remember in cards so that you can glance at them anytime you want.
It is always recommended to write mock tests so that you can always know how much far extent you prepared until then.
Conclusion: Unlike the other subjects, the English exam puts all of your skills at the test. The score of English can improve your overall score ultimately. Of course, if you could able to follow the above important points, you can definitely score 90+% in your exam.